What is a Mattress Protector and Why Do I Need One?
When it comes to bedding, the buck doesn't stop with bottom sheets. Although they offer some level of protection, regular sheets can only do so much in the preservation of your bed. A bottom sheet alone will still allow unwanted substances like skin cells, dust, and liquids to permeate the mattress; it also offers little in the way of adding padding to an uncomfortable mattress below. Mattress protectors are an additional element of bedding that can make up for these shortcomings of regular sheets.
Mattress protectors do as their name suggests; they protect your mattress from contaminants and general acts of wear and tear that would otherwise shorten the mattress' lifespan. On top of this, a mattress protector allows for more hygienic bedding and can enhance the bed's overall comfortable feel. The mattress protector sits between your mattress and bottom sheet to create a soft yet durable barrier, providing you with the aforementioned benefits.
What is a Mattress Protector?
A mattress protector is a type of fitted sheet that acts as a durable protective covering for your mattress. Making a foundational layer of your bedding, the mattress protector fits over your mattress and sits beneath the bottom sheet. They come in a variety of sizes and materials to suit all beds and bedding preferences.
The mattress protector creates a barrier that shields the mattress from anything that may reduce its quality. Without a protector, mattresses are exposed to spills, dust, animal fur, and bodily sheddings (e.g. skin cells and sweat); all of these substances can degrade a mattress in various ways, impacting its hygiene and comfort, and ultimately shortening its lifespan. With a protector in place, the mattress has an extra line of defence against these substances.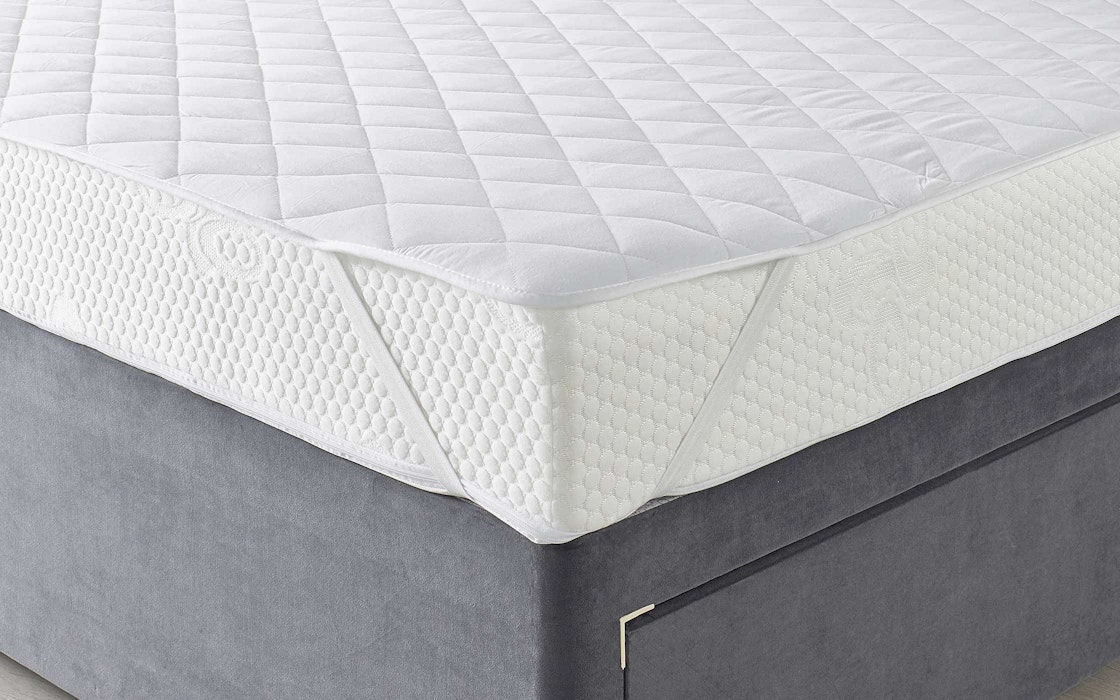 Why Do I Need a Mattress Protector?
In addition to protecting the mattress, mattress protectors can improve both the hygiene and comfort of your bedding. We've gone through the main purposes and benefits of using a mattress protector in more detail below.
Prolongs Lifespan and Condition of Mattress
A mattress protector will prolong the lifespan of the mattress, preserving its condition for much longer. The protector will form a barrier across the mattress that can counteract acts of degradation that may shorten its lifespan; from accidental spills to compression during use, mattress protectors reduce the impact of these incidents on the condition of the mattress. Beds are expensive, and a high-quality mattress protector is a minor investment versus purchasing an entirely new mattress.
Improves Hygiene of Bed
It's much easier to keep a bed clean when using a mattress protector instead of an exposed mattress. The protector will catch contaminants like skin cells, dust, and dust mites, keeping them safely away from the underlying mattress. And, as we explain later in this article, most mattress protectors are machine washable just like your regular sheets. Comparing this to the near-impossible task of washing a mattress, you can further understand the value of a mattress topper; they allow you to completely refresh your bedding using a standard washing cycle in your machine.
Enhances Comfort of Bed
Mattress protectors have the additional benefit of enhancing the comfort of the bed. The protector will add a soft layer of cushioning to the mattress, particularly if you choose a quilted product. If you're suffering from aches and pains when you wake up, you'll benefit greatly from a mattress protector; they reduce pressure on your joints while you sleep and generally improve the mattresses' comfort. With this in mind, both old and new mattresses alike could be improved with a high-quality mattress protector.
Types of Mattress Protectors
Mattress protectors are designed to fit a variety of bed sizes and come in different materials to meet diverse bedding needs. Whether you have a single, double, king, or even a super-king size bed, there's a mattress protector for you. Material options range from cotton and quilt to waterproof and hypo-allergenic protectors. If you're looking to make a super-king size bed, start by selecting a super-king size mattress protector that suits your material preference, whether it's cotton for comfort or waterproof for practicality. This will ensure your mattress stays in top condition while you enjoy a luxurious sleep experience.
Cotton Mattress Protectors
Cotton mattress protectors are a popular choice as they have many characteristics that improve overall sleep quality. As a material, cotton offers softness and warmth at the same time as breathability. In the summer, a cotton mattress protector will keep your bed cool, whereas it will be cosy and warm in the winter. The soft texture of a cotton mattress protector also creates a comfier bed and eases the pressure on your joints. Our Waterproof Cotton Soft Mattress Protector is made from 100% brushed cotton and features a waterproof backing as an extra layer of protection for your mattress: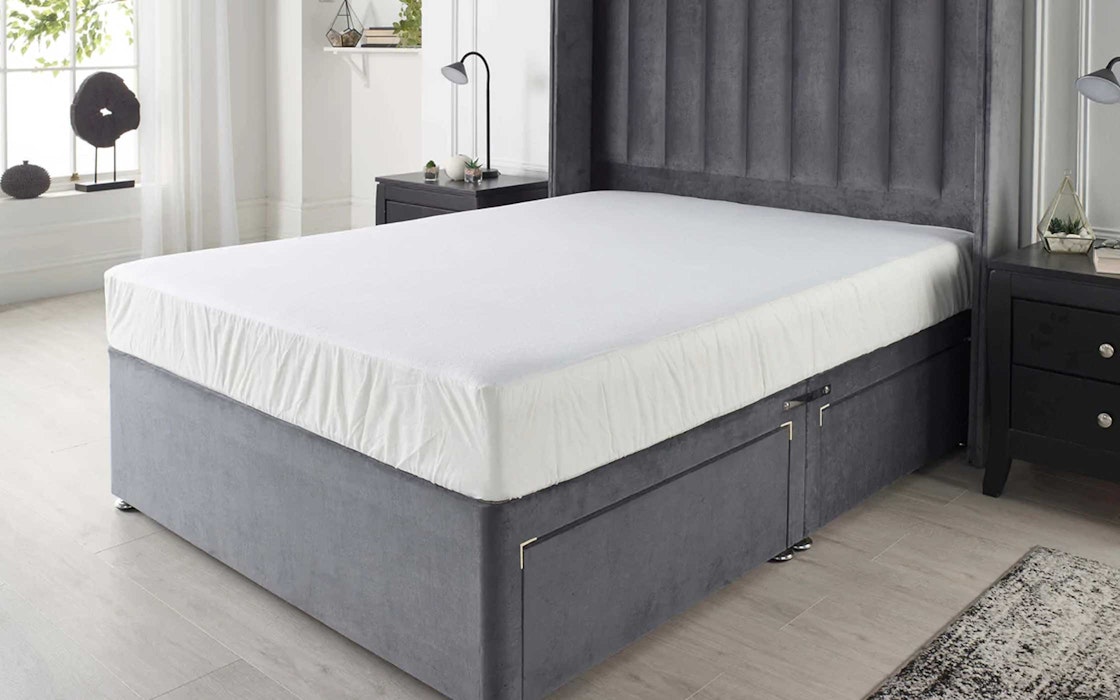 Quilted Mattress Protectors
Quilted mattress protectors are ideal for enhancing the softness and comfort of your bed. These mattress protectors contain a spongey filling to give the protector some bounce; for example, our Superbounce Quilted Mattress Protector contains a spiral fibre filling encased in a brushed microfibre cover. The gaps between the fibres in the filling absorb pressure placed on the mattress, e.g. when someone lies on the bed. This reduces the pressure on both the mattress and the person lying on it. As such, mattresses with quilted mattress protectors will last longer while also providing you with a comfier sleep.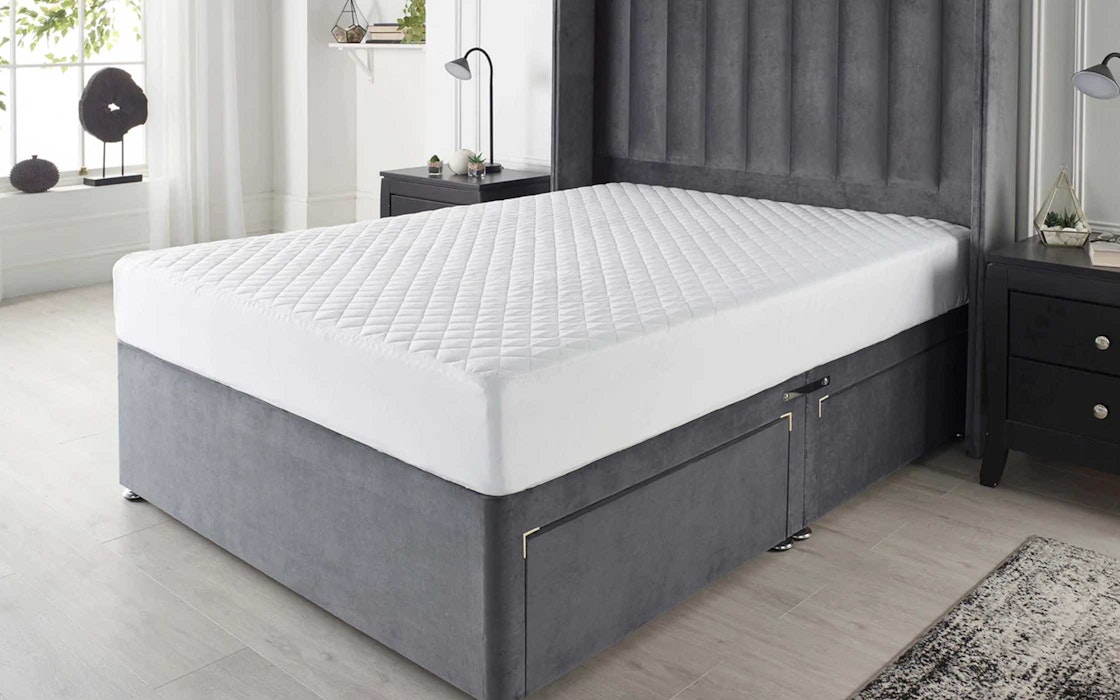 Waterproof Mattress Protectors
Waterproof mattress protectors add an additional layer of protection against liquids when spills or other accidental mishaps occur in bed. Mattress protectors like our Waterproof Terry Towelling Mattress Protector feature a high-grade waterproof backing made from a breathable polyurethane. The waterproof backing blocks liquids from reaching the mattress, while the soft cotton cover creates a comfier bed. You should opt for a waterproof mattress protector if preserving the condition of your mattress is a priority; liquid spills are tricky to remedy, so a waterproof protector is indispensable to keeping a mattress pristine.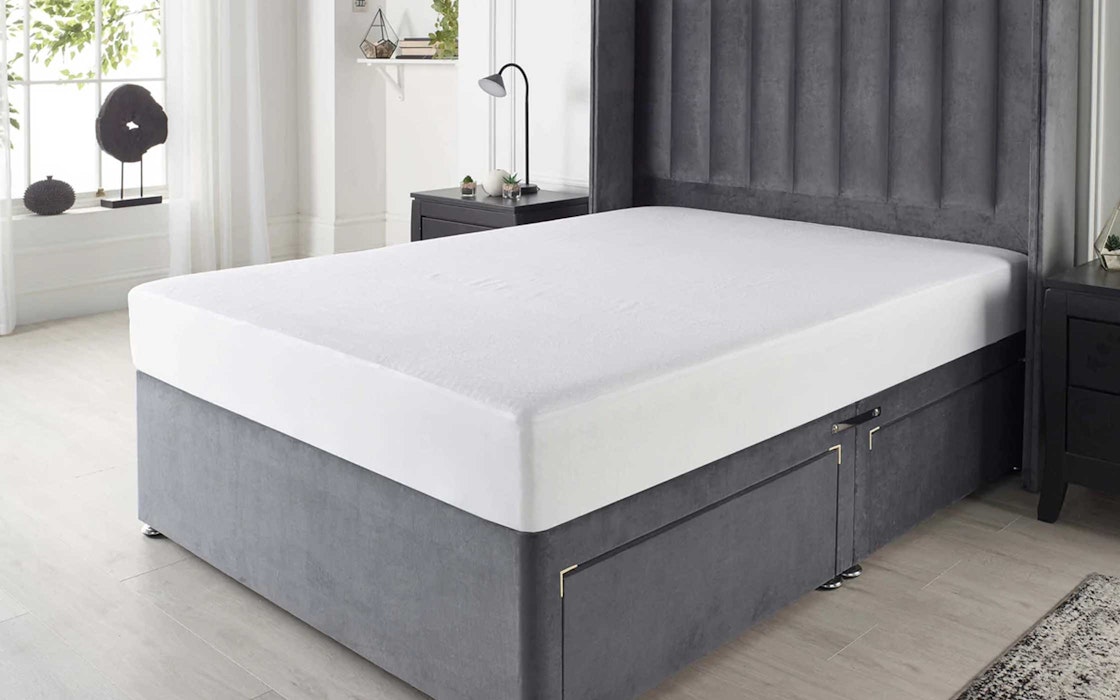 Hypo-Allergenic Mattress Protectors
Hypo-allergenic mattress protectors are made from materials that are more likely to suit those sensitive to allergens. Understandably, these mattress protectors are highly popular among the hospitality and healthcare industries. Many of our mattress protectors are hypo-allergenic, such as the Hotel Quality Quilted Mattress Protector and Essential Quilted Mattress Protector. Made from hypo-allergenic materials like microfibre and polyester, these protectors are ideal for both home and commercial use.
Can You Wash a Mattress Protector?
Yes, high-quality mattress protectors are as easy to wash as regular bedsheets. Using our products as an example, all of our mattress protectors are machine washable at 40 degrees.
In terms of how often you should wash a mattress protector, this varies by how it gets used. For typical home use, you'll only need to wash a mattress protector every 1 to 2 months. In guest bedrooms, wash before and after guest use; when unused, wash every 2 to 3 months to prevent dust accumulation. Similarly, if using the protector in a healthcare or hospitality setting, wash before and after each new user.
What is a Mattress Topper?
A mattress topper is another form of fitted sheet similar to a mattress protector. It also sits between the mattress and bottom sheet as a middle layer of bedding. However, where mattress protectors are designed to protect the mattress, mattress toppers are primarily designed for comfort.
As comfort is the priority, mattress toppers are thicker and fuller than mattress protectors. They create a cushioned and supportive layer that can transform an otherwise uncomfortable mattress. Coming in different depths, you can select a mattress topper to suit your preferences; for instance, we offer both 1" Deep Full Mattress Toppers and 3" Deep Full Mattress Toppers. All of our luxurious mattress toppers contain a high-density spiral fibre encased in 200 thread count luxury cotton.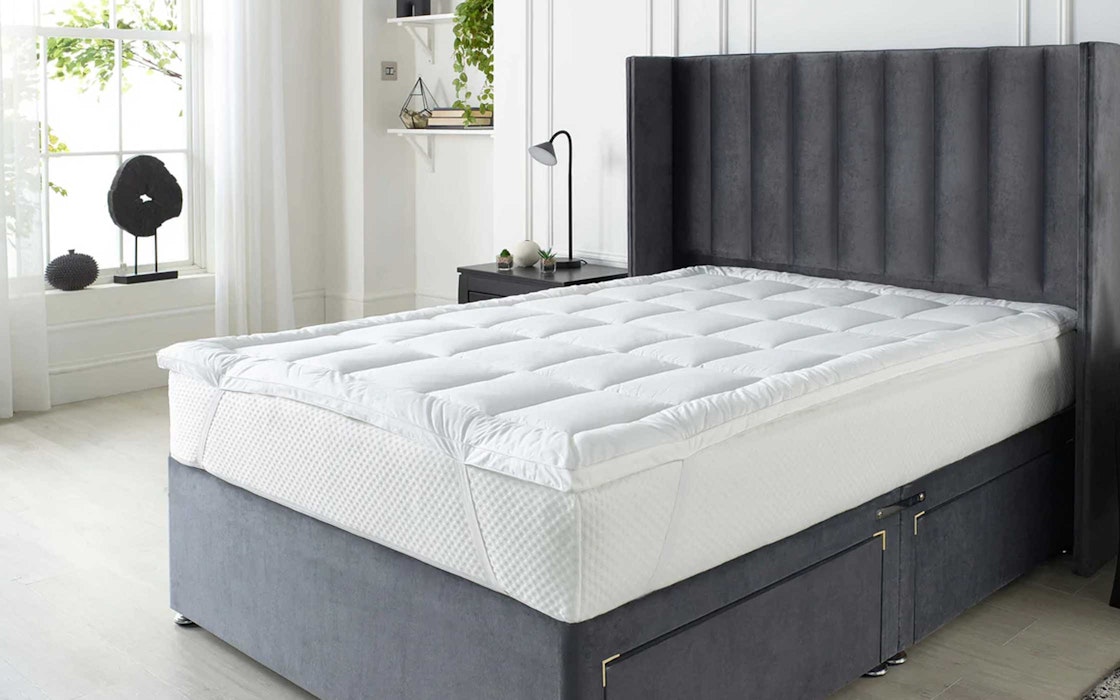 Do I Need Both a Mattress Topper and a Mattress Protector?
Whether you should use both a mattress topper and a mattress protector is ultimately down to your preference. We do strongly recommend using both a topper and a protector as both elements of bedding serve different purposes.
By combining both a mattress topper and a protector, you can simultaneously protect your mattress while drastically improving its comfort. Your mattress will last longer and provide you with better sleep quality over its lifespan. With that said, if you're on a budget, a mattress protector alone will suffice. However, it's better to invest in both elements of bedding to create the best sleeping environment possible.
If you opt for both a mattress topper and protector, first place the topper over the mattress, followed by the protector. You can then place your regular bedsheets over the protector. Placing the protector over the topper is best as it will protect the topper along with the mattress.
Products Mentioned in This Article:
Regular priceFrom £7.34 inc VAT£6.12 ex VAT
Regular priceFrom £8.89 inc VAT£7.41 ex VAT